If you're a beginner to kitesurfing, you need to wear the right safety gear. During your lessons you will have hopefully been provided with a helmet and impact vest.
But now that you're getting out unsupervised it's vital to make sure you carry on using the right kiteboarding impact vest and kiteboarding helmet.
Until you get more skilled at controlling the kite and board it's likely that you'll take a few knocks, it's just part of the learning process.
But having the right safety kit will firstly protect your most vulnerable body parts and, secondly will give you the confidence to get out there and push it.
It's very tempting to follow the lead of more experienced kiters, who more often than not will not be wearing helmets or impact vests. But I wouldn't recommend it!
I speak from personal experience here, having suffered cracked ribs and a few lucky escapes both as a learner and experienced kiter.
It's becoming a lot more "fashionable" even for advanced kiters to wear protective gear, especially when they're trying out new tricks. It's back to the confidence thing.
There are a lot of choices out there so to make the choice easier I've narrowed it down to the few that I think are the best in terms of suitability and price.
Kiteboarding Helmet Review
The most important features we're looking for in a kiteboarding helmet (in my opinion) are:
Protection
Comfort
Light-weight
Watersports specific
Style
And of course price!
There are a few brands on the market, all offering great protection for that pretty vital organ – the brain.
But in terms of the combination of features and price, I believe that Mystic Boarding offer the best choice of helmets out there.
All their helmets are properly certified with the appropriate CE grading and are designed specifically for water-sports. The choice comes down really to style and a couple of added features at the top-end of the range. But any of the following models will be absolutely ideal.
Mystic Mk8
Features:
High impact resistant ABS plastic construction – Offers the best level of impact protection with very light weight.
Internal EVA foam lining – Waterproof, lightweight and comfortable, with a good degree of insulation
Minimalist design – So you won't feel or look like an American Football player!
Removable/Movable interior pads – To customise for comfort
Adjustable head-strap – To easily tighten to your exact fit
Neoprene padded straps and chin guard with quick release – To avoid chafing
Optional/removable ear guards – (Extras not included in price) for extra warmth and protection
Choice of colours/patterns

Mystic Mk8
Mystic Mk8 X
Features:
All the features of the MK8

Mk8X Dial Tightening

Adjustable headstrap has a handy "dial in" system to make adjustment easier and more accurate
Upgraded strap fastening system
Mystic Predator
Features:
All the features of the MK8 X

Mystic Predator

Small front brim
All of these helmets are essentially the same construction and are designed by kitesurfers for kitesurfers. Prices vary from about £55 to £75 although there are currently some great discounts available at the Wetsuit Centre.
Kiteboarding Impact Vest Review
Hitting the water at anything over about 20 Km/h can feel as bad as hitting hard sand. And much faster than that can lead to serious bruising.
Add to that the risk of an accident whilst launching or landing on the beach or in very shallow water and you'll understand why all kite schools insist their pupils wear an impact vest.
Kitesurfing impact vests are generally made of neoprene fabric material with EVA foam on the back and front to provide protection from impact.
Whilst they will provide a good degree of buoyancy, which is a great help in your early water starts, they aren't designed to be flotation devices. So if you're worried about your swimming ability or the risk of being injured in deep water, then you might want to go for a buoyancy jacket instead.
If you're going to be using a waist harness with either an impact vest or buoyancy jacket then you need to make sure its specifically designed for kitesurfing. This means it will have no padding around the waist, which is where your harness sits.
It's not so important with a seat harness as the harness will generally sit lower on the body, but the vests I'm recommending are all kite specific.
My recommendations for impact vests and buoyancy jacket are based on suitability for kitesurfing, degree of protection, and ease of getting on and off, as well as comfort.
All three of the impact vests also provide a welcome extra layer of warmth for those cold kiting days.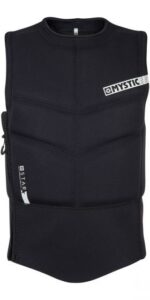 Features:
Soft Touch Neoprene – The main fabric of the vest is made from neoprene inside and out to make it comfortable to wear without a wetsuit.
Side Zip on men's version, front zip on women's – Makes it really easy to get on and off.
Non-slip, non-padded harness section – Sits comfortably under your waist harness without causing the harness to slip upwards or sideways.
Clash Foam impact protection – Dense EVA foam padding on back and front offers maximum impact protection without bulk.
Note: make sure you get the "kite" version as they also make a more general version for other watersports.
Features:
Super-stretch neoprene – The vest is constructed from extra flexible, soft feel neoprene to make it

O'Neill Slasher

comfortable and non-restrictive

Front zip – Super easy to get on and off
Non-slip, non-padded harness section – Ensures your waist harness sits comfortably and securely
Nitrolite foam, segmented padding – Anatomically designed for freedom of movement whilst offering maximum protection without bulk
Reversible
Note: Make sure you get the "kite" version as they do a "comp" more general vest too.
Features: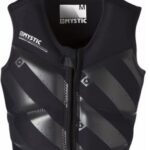 Soft touch neoprene – Comfortable without a wetsuit and flexible
Front zip – Easy to get on and off
Non-slip, non-padded waist section – Ensures a comfortable waist harness fit without slipping
Clash Foam impact protection – More padded than the Mystic Star, to offer extra protection and a bit more buoyancy
Mystic Buoyancy Vest
This vest is not designed to be an impact vest but offers extra security in deep water, and the foam padding will offer plenty of impact protection, but with more bulk than an impact vest.
Features:
Nylon material
EVA foam padding
Adjustable crotch strap – Prevents it from riding up
Adjustable side straps – To give a snug fit
Short fit – To allow for a waist harness
Ride Hard – Ride Safe!
It's not "uncool" to protect yourself and let's be honest, no-one will judge you for wearing the right kit, especially if you're progressing fast because you've got extra confidence, knowing that you can throw down moves with less risk of injury.
I'd love to hear your comments on this article, and I always reply to any questions, so please let me know what you think in the box below.