I've been visiting Tarifa for the last 25 years and I can't get enough of it! And I'm not alone, it's become a Mecca for kitesurfers from around the globe.
So I'll share why kitesurfing in Tarifa has become an obsession, and some tips on how to get the most out of this fantastic place where Africa meets Europe and the wind blows 300 days a year.
I still get a buzz of excitement as I drive over the headland that stands behind Tarifa and see Africa on one side and the beautiful golden sandy bay of Tarifa stretching away below – usually with kites clearly visible on the sea.
Video Provided Courtesy of Freeride Tarifa
Tarifa is the most southerly point in mainland Europe, at the very southern tip of Spain, a mere 11 kms from Morocco across the Strait of Gibraltar.
Its geographical location is what causes the wind to blow so regularly.
With its cool vibe and 10km of pristine beaches to make kitesurfing in Tarifa a must for anyone planning to travel to Southern Europe to enjoy our great sport.
Add to this the fantastic old town of Tarifa with it's labyrinth of narrow streets and squares, tapas bars, street cafes, bars and restaurants and it's even great when you're not kiting!
Tarifa actually forms the southernmost point of the well-kept secret Costa De La Luz (Coast of Light) with chains of golden beaches stretching right up to Portugal.
It's easily accessible via a number of international airports, the nearest being Gibraltar, a 45 minute drive away. It can also be accessed from Malaga (2½ hrs), Cadiz (2 hrs), Jerez (2hrs) or Seville (3hrs).
With Spain's fantastic road network it's also accessible by road trip from anywhere in Europe. I've done it in 2½ days from NW England.
This is literally the point at which the Mediterranean meets the Atlantic. In fact if you stand on the Harbour at Punta Tarifa you actually have the Med on one side and the Atlantic on the other.
Behind Tarifa and all along the southern coast of Spain are a series of mountain ranges. And on the other side of the Strait of Gibraltar are the Moroccan Atlas Mountains.
More on the wind later, but it is this combination of warm Med, cooler Atlantic and the funneling effect of the mountains that causes the wind to blow so constantly.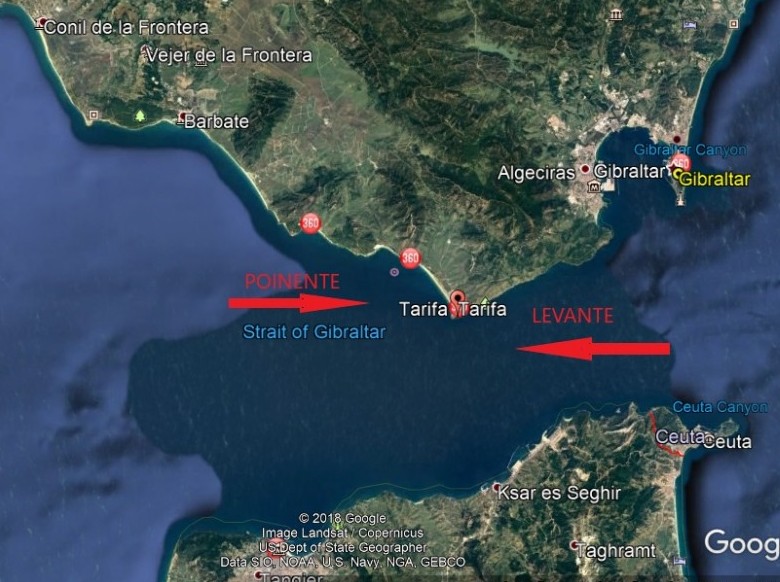 When to Go
Being the most southerly point in mainland Europe, the air and sea temperature is pretty warm all year round but the most popular time for kiters is June to October when the wind is more predictable, although I use that term with tongue-in-cheek as it can swing around within a day!
Water temperature ranges from 20-24C and air temperature can get into the high 30s at the peak of Summer.
Spring (March to end of May) and Autumn (September and October) sees temperatures from 15 to 20C and water temperatures of about 18C.
The place is starting to come alive with most of the bars and restaurants re-opening in March and staying open into October, but it's a lot quieter. The winds are pretty predictable at this time of year too so, if you don't want to be sharing the beaches with the Summer crowds, it's a good time to go.
Winter (November to end of February) is pretty quiet. Air temperature ranges from 10-18C and there's more chance of rain. Water temperature is around 18C.
But the Poinente tends to be the more prevalent wind in the winter and it's still a great destination if you're reasonably nearby. But if you're looking for a warm beach holiday maybe choose somewhere else at that time of year.
The Winds
There are 2 main winds that blow across Tarifa and the whole of that coast of Spain.
The Levante – This is the famous and notorious wind that blows from East to West out of the Mediterranean and across Southern Spain. It can veer from South Easterly to North Easterly depending on the precise conditions that are causing it.
Without going into a very detailed meteorological lesson, it's basically caused by lower pressure cool air over the Atlantic north or south of Tarifa and high pressure warm air over the Med.
This causes the wind to blow out of the Med and through the narrow channel of the Strait of Gibraltar, which causes a venturi effect to accelerate the wind.
The Levante can blow for days on end but seems to go in up to 15 day cycles during the summer months.
When it blows it can be up to 50kts, but more commonly between 25-40kts at Tarifa. It is generally gusty and blows offshore to cross-offshore depending on its precise direction and the chosen location.
There's a great rescue service set up called Sea Angels Tarifa that allows you to buy a card for between €30 to €50. This entitles you to a number of rescues and is valid for the whole season.
Well worth it if you don't want to restrict your kiting to when the Poinente blows. And a lot cheaper than the charge of €100+ if you need to fished out of the sea without one!
Real care needs to be taken when the Levante blows as offshore is not a great direction for kitesurfing.
However, there are locations where it is less powerful and cross-shore, such as Punta Paloma, at the northernmost end of the bay of Tarifa, or Los Canos de Meca about 40kms north of Tarifa.
The Poinente – This is the more friendly Atlantic wind that blows from West to East and is caused mainly by the prevailing Atlantic winds being accelerated by the thermal effect of hot air rising from the Spanish mainland, which helps pull the wind in from the cooler Atlantic.
The Poinente also benefits from the venturi effect of the air speeding up to enter the narrow Straits of Gibraltar, but to a lesser extent than the Levante.
The Poinente is the kiter's friend, being onshore or cross onshore at pretty much all locations and is generally more gentle than the Levante, averaging 15-25 kts. It's also more constant and less gusty.
When the Poinente is in play, the mornings tend to be calm with gentle breezes and the wind picks up early afternoon.
During the summer months the two winds make up roughly 50% each of the windy days and there's sometimes (but not always) a quiet few days between the Levante dying down and the Poinente cracking in.
Even during periods when neither wind is blowing there's still good kiting to be enjoyed in late afternoons, caused by the thermal sea breeze as the land heats up and air rises off it, sucking the cooler air off the sea.
The Levante is more common in the Summer and Poinente in Winter.
The Beaches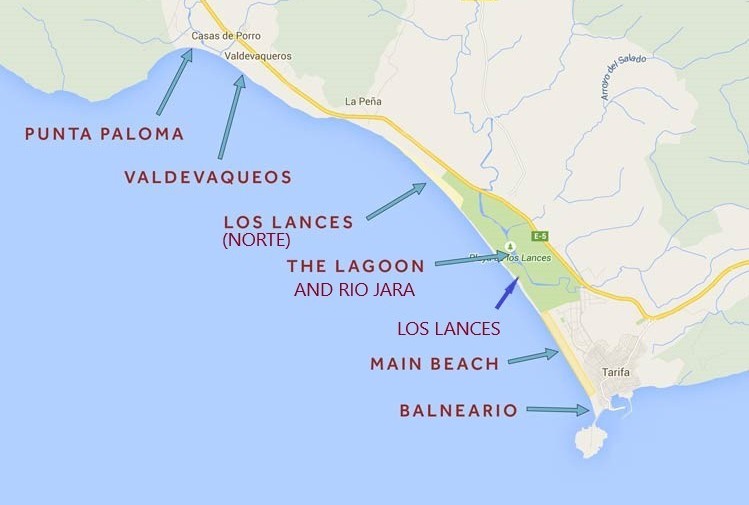 Punta Paloma – At the far end of Tarifa Bay is a huge sand dune that can be seen from miles way. Where this meets the sea is Punta Paloma.
This works well in either Poinente or Levante as it's where the bay curves around so it's onshore or cross onshore in Poinente and at worst cross-offshore in the Levante.
It tends to be quieter at this end of the bay as it's a 10km drive from Tarifa. This beach can be kited all year round without restriction.
Valdevaqueros – As you drive out of Tarifa, past the famous Hurricane Hotel, there are a couple of tracks leading to the beach with car parks and beach bars/kiting centres.
Parts of the beach are set aside for bathers in the Summer but the kiting areas are clearly marked. Out of the Summer months there is no restriction.
A beautiful 3km stretch of beach that is great in Poinente and can be kited with caution in some Levante winds when it can be cross shore. There are a couple of kite centres on this stretch of beach and some laid back beach bars for a well-deserved beer or juice after a hard days kiting.
In the Summer I tend to head to this end of the bay as it's usually a bit quieter than the beaches closer to Tarifa town.
Los Lances Norte and Los Lances – This is the main stretch of beach running from the football stadium at the south end right up to just south of the Hurricane Hotel.
Kiting is allowed here all year round but there are clearly marked no-kiting zones in the Summer months on the main Los Lances stretch, south of the Rio Jara road bridge. Los Lances Norte has no restrictions.
Like all the beaches at Tarifa, both have a wide golden beach so plenty of room to try out your stuff, although it does get pretty hectic in the Summer.
This part of the bay works best in Poinente but is usually offshore and gusty in Levante.
Los Lances Norte has most of the kite schools and plenty of cool beach bars to choose from. There's ample parking all the way along, although in the Summer it's worth getting out early to get a space.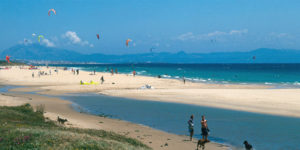 Rio Jara and the Lagoon – The Rio Jara is the river that flows into Tarifa bay. The stretch of beach either side of the river is what's known as Rio Jara.
Technically it's just a small section of Los Lances. The river mouth is a no-go for kiters as its got a strong current that will catch you out.
Behind the beach is a lagoon that gets pretty small at low tide. You'll see a lot of kites on here at high tide when it's at its largest.
But a word of warning! It's  illegal to kite on the lagoon and apparently the police do come down every now and then and turf kiters off. I have to admit I'm not sure if this is a myth to keep the lagoon free for the locals! Up to you if you want to test it out though!
Town Beach – This is the main beach nearest to Tarifa town and kiting is forbidden from 1st June to 30th September, but not restricted outside those dates. It works well in Poinente but is mostly offshore in Levante.
Balneario – This is the small stretch of beach right next to the port of Tarifa and is frankly a bit dodgy, with some submerged rocks. You will see advanced kiters on here in a Levante as it kicks up a lot of chop and some decent waves, but I've always avoided it.
Where to Stay
There's an abundance of hotels, hostels, apartments and camp-sites in the Tarifa area so you won't struggle to find something to suit. I've always found great deals on apartments and hotels on Hotels.com.
However, if you're new to the sport, travelling alone, or just want a hassle-free all in kitesurfing holiday, I'd thoroughly recommend you take a look at the great packages offered by Book Surf Camps.
They offer a full range of options, from hotels to self-catering apartments, along with fully IKO accredited instructors to get you started if your new, or to help with your progression if you've already had some experience. Their partners also offer tuition for absolute beginners right through to advanced kiters, with prices to suit every budget.
Other Beaches Nearby
When the Levante blows really hard it's not ideal at most locations in Tarifa bay, apart from maybe Punta Paloma.
But a lot of the locals will head to other beaches along the coast that are more user-friendly.
Los Canos de Meca- This is the bay in front of Cape Trafalgar (where the battle took place) and is a personal favourite of mine.
It's about 40kms north of Tarifa town heading towards Cadiz and the beautiful Moorish white town of Vejer de la Frontera.
When the Levante is at it's strongest it blows cross-shore at this location and gets some great waves breaking over the reef at the end of the cape. It is more of an intermediate to advanced spot though as there are rocks at low tide and at all times at the cape end of the bay.
It's also a great spot when the wind isn't blowing with a real bohemian feel to it and some very cool beach bars and restaurants.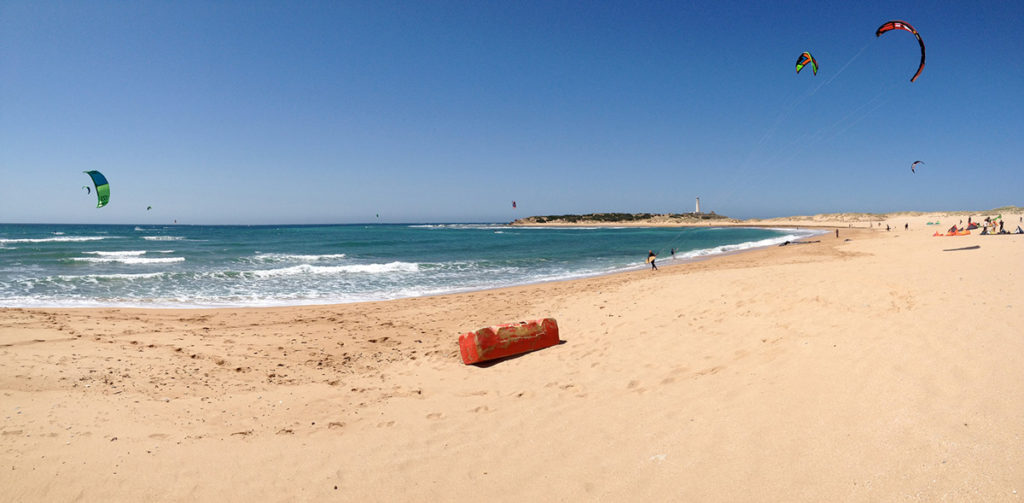 Getares – is a small bay about 10kms east of Tarifa before Algeciras. It works well when the Levante is mental at Tarifa, being more sheltered and onshore.
Palmones – Is a bay a few kms beyond Algeciras going back towards Gibraltar. There's a small river estuary with flat water.
Again, this is a lot more user-friendly when the Levante is blowing, although it's known to be a bit smelly as the Levante blows fumes from the nearby oil-refinery at La Linea across it.
Heading Home!
You've probably detected my love affair with this place! As I write I've already got a trip booked for in 3 weeks time and I fully intend to be living there in the next couple of years.
What more can I say? But here are some useful links to check out before you decide for yourself.
Tarifa Direct (property rentals)
Please don't hesitate to post your own experiences or questions below or email me at adrian@kitemadworld.com
Affiliate disclosure:   As an Amazon Associate I earn from qualifying purchases, and, as the owner of this website I may also receive a small commission for any purchase you make as the result of clicking a link