If you've wondered about kiteboarding in Turkey then Gokova Bay is well worth a visit.
I've been 3 times so far and will definitely be going again.
If you think of Turkey as being mass tourism hell and over-commercialised, think again. And check out this little-known gem of kitesurfing heaven! And the great thing is, it's a great destination for non-kiters too, so everyone's happy (if you catch my drift).
The Location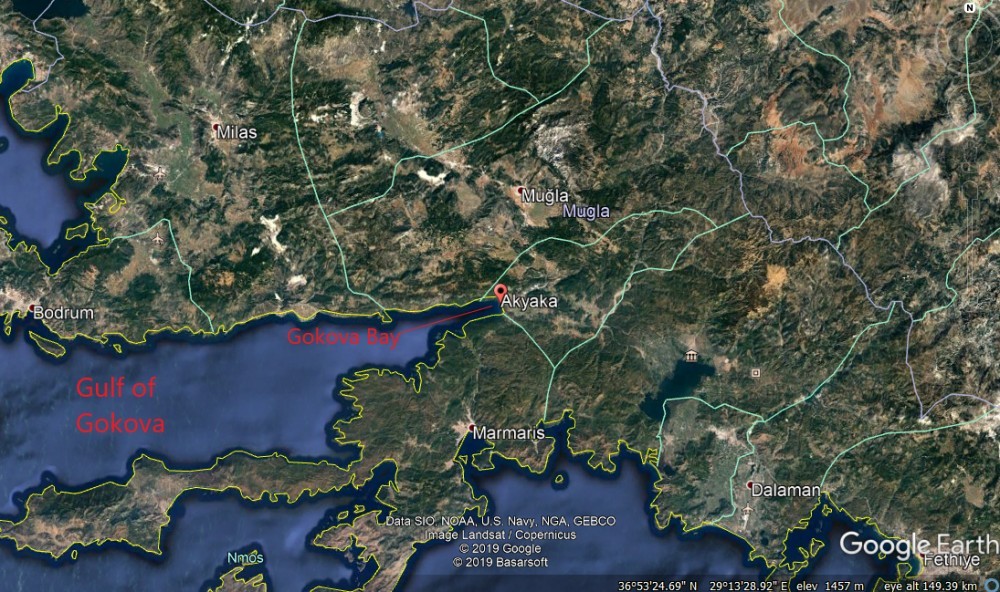 Situated at the head of the Gulf of Gokova which is a steep-sided inlet with mountains on either side, Gokova Bay is about an hour's drive from Dalaman Airport and 2 hours from Bodrum Airport.
At one end of the bay is the  village of Akyaka, which is where most people will tend to stay when they visit the area.
Akyaka is a far cry from the usual holiday resorts like Marmaris or Fetyhe and is mainly made up of residential holiday homes, small hotels and a self-catering apartments.
This little area  hasn't attracted mass tourism and remains largely unspoilt and has a very traditional Turkish feel to it.
Because the majority of vistors are Turkish, apart from the kiting community, the cost of food and drink here is generally half of what you'll pay in large resorts. And you don't get any of the hussle that's become part of a Turkish resort holiday.
The bay is shallow and at the back of it there's a network of small rivers and streams flowing in through a kind of wetland that is similar to a very small scale version of the Everglades. Well worth  a boat trip up the river before the wind cracks in!
There are plenty of small bars and restuarants in town catering to every taste from traditional Turkish, vegetarian and some great seafood, but if you want  buzzing nightlife you'll need to go to Marmaris or Dalyan, which are both about 30 minutes away.
The Wind
Because of the surrounding mountains and narrow Gulf of Gokova, the wind here is caused by a thermal effect of air rising from the warm land and drawing wind in from the sea, which gets funneled into the bay.
As long as it's hot the wind is pretty much guaranteed. And the wind is almost always onshore or slightly cross-onshore.
It starts at about 11 am at about 12kts and builds up during the day getting up to usually between 18 to 25kts by mid afternoon and then dropping again from about 5pm. Although on very hot days it can carry on until 7pm or later.
So it's a great location for everyone from beginner to advanced.
When to Go
May to October is the best time for the thermal wind, and the temperature ranges from about 25C at the earlier and later part of the season to 35-40C in August.
Outside of those dates, you'd probably better looking at other destinations.
I've tended to avoid August because it can get too hot and have been in June and late September and kited every day for 2 weeks.
Water temperature is about 18-25C. Although right next to the beach where mountain springs flow in, there can be a few cooler spots, which are quite welcome when it's 40C on the beach!
The Kite Spot
Kite Beach is about 1.5km from Akyaka at the the opposite end of the bay, left when looking out to sea. If you're staying in Akyaka it's an easy walk along the beach from the village, accessed by crossing over a footbridge across the main river from the harbour.
You can get there by car by turning right onto the main trunk road to Dalaman and then, after a few hundred metres, right again onto a dirt track which is signposted "Kite Beach".
The main Kite Beach is fairly short, about 500 metres, but if you head right (looking out to sea) towards the village there's plenty of space and a narrow strip of beach stretches all the way to the harbour at Akyaka.
To the left of the beach is a large man-made spit of land. On the far side of this the wind tends to be stronger and that's where the advanced riders hang out.
There's nowhere to launch and land on that side of the spit as it's all scrubland, so it's a case of either tacking backwards and forwards upwind to get out past the spit, or launch on the main beach then walk to the far side with your kite in the air.
The water is shallow pretty much to the end of the spit (200 metres) and sandy bottomed, so great for kiting.
Water conditions are pretty much flat to about 100 metres out then a bit of chop and small waves out past the spit.
There are about 6 kiteschools on the main part of the beach, all next to each other, and most sell food and drink and have toilet facilities.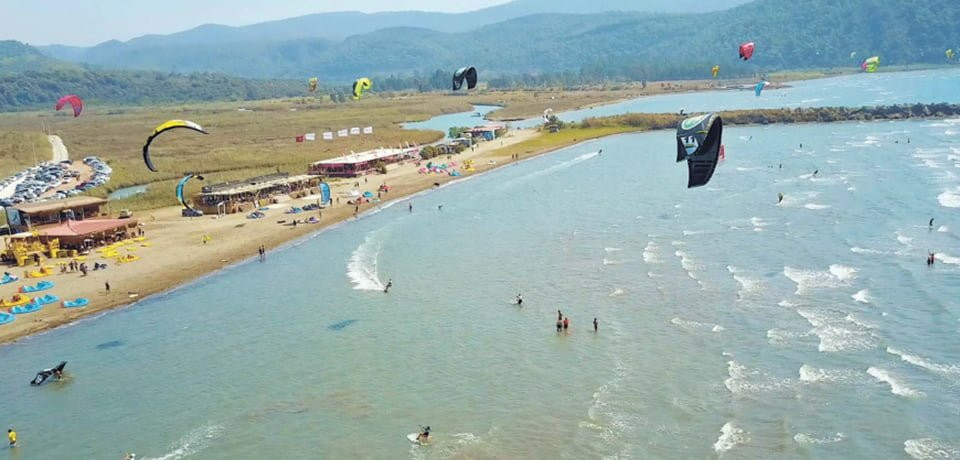 Where to Stay
There's plenty of self-catering accommodation available at reasonable prices in and around Akyaka. And the village is laid-back and very friendly.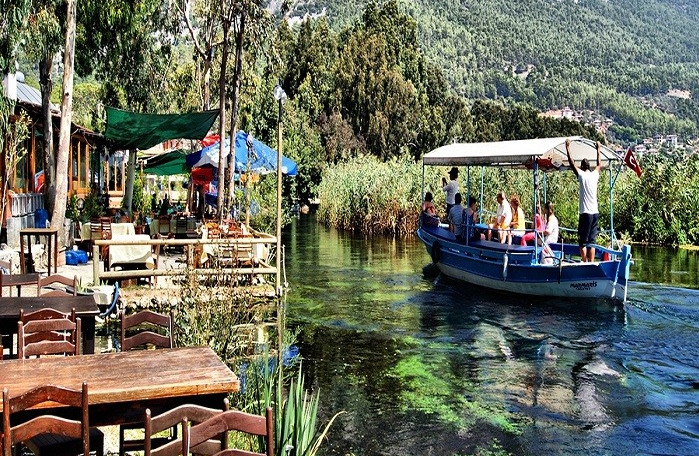 I've stayed at No22 Riders' Inn, right in the middle of Akyaka. It's a small, friendly 14 bedroom hotel geared up for kiters and is used by a number of kiteschools.
The location is perfect if you want ease of getting to the kite beach and the village, and it's nicely located near the edge of the river.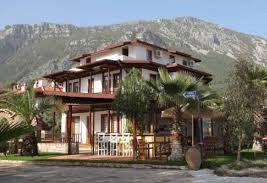 Other times I've been on family holidays and stayed about 3km outside Akyaka in villas.
This means hiring a car though so maybe not suited to everyone, although driving in this part of Turkey is pretty worry free and there are plenty of car hire firms at the airport.
It's worth hiring a car for a few days anyway as there's a lot to see in and around the area.
Useful Links
Feedback
I'd love to hear your own experiences of Gokova Bay and any other locations in Turkey. Please feel free to make any comments below or email me direct at adrian@kitemadworld.com
Affiliate disclosure:   As an Amazon Associate I earn from qualifying purchases, and, as the owner of this website I may also receive a small commission for any purchase you make as the result of clicking a link