Whether you've already taken your first steps towards being a kiter or are looking to try it for the first time in perfect conditions combined with a holiday, going on a kitesurfing holiday is a great way to quickly learn the basics or boost your progression.
We learn anything better when we're relaxed and able to focus on the job in hand. And what better way to do that than to spend a week or two chilling out and kiting in perfect conditions with great instructors and like-minded people.
I've kited in some great locations and I'll share some of these with you. I'll also offer some guidance on what to look for in a kitesurfing holiday destination.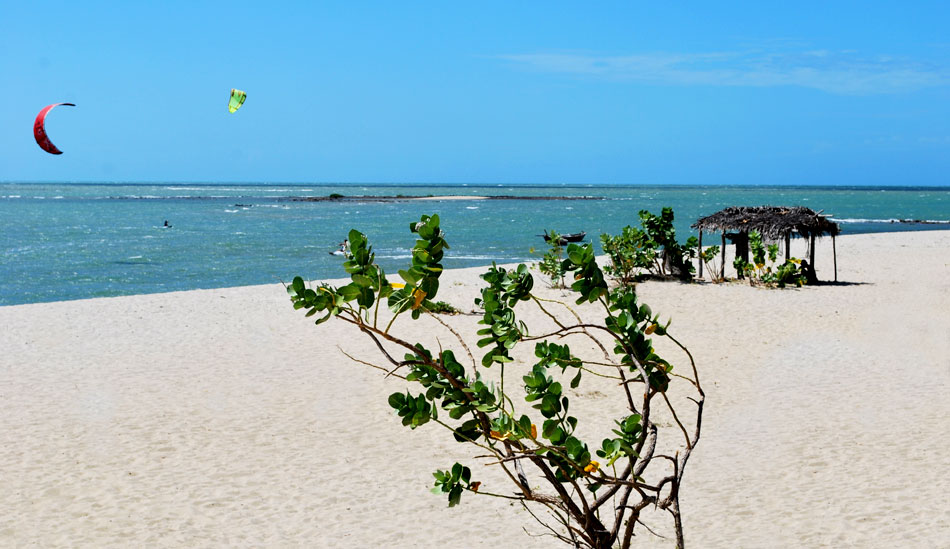 Go It Alone or Package?
There's a huge amount of info on-line that will help you find the ideal destination and most kitesurfing locations have a great community spirit. So if you do go it alone it's easy to hook up with like-minded people once you get there.
The main advantages of booking a kitesurfing package deal are:
Proven location with plenty of info on best time to go
Qualified instructors
Structured tuition
Safe environment to learn and progress in
Abundance of up to date kit provided
Guaranteed to be with like-minded people
Storage
Non-kiting facilities and refreshments
Predictable/known cost
If you're new to the sport or in your early days It's definitely the best way to go, and certainly if you're travelling solo. But of course a lot will depend on whether you're holidaying with a non-kiting partner, family or friends.
A lot of kitesurfing package holidays offer great facilities for non-kiters, so you can choose something for everyone.
If you're more experienced and have your own kit, there's nothing wrong with going it alone. I've done both and sometimes combined the 2, spending some of the time independently and using the facilities of a kite-club for part of the holiday.
The main draw-backs of going it alone are:
Transportation of kit to the destination
Storage of kit at the destination
Getting from your accommodation to the kiting location
Lack of fellow kiters
Additional costs for use of facilities, rescue services etc.
I've discovered some great kiting locations by doing it independently, but if you're a beginner I'd definitely recommend you opt for a package.
If you're going down the route of the package kiting holiday there's basically two main ways of doing it:
Independent accommodation and use of a kite club/school at the location – This is not a bad way to go if you have non-kiting people with you. Check out the kite clubs and schools at the location and definitely contact them to see if you need to book in advance.
There are usually options to book lessons/rental by the day or for a longer period, so you can mix it up with other activities.
Kitesurfing camps – These have sprung up in recent years and are now available in most locations around the world. Don't be put off by the term "camps", The accommodation offered varies from shared hostel type places to 5 star apartments or hotels.
The main thing is that the package is geared towards time on the water and coaching or tuition. They also cater for more experienced kiters who maybe don't want/need any tuition, but just want everything geared towards a great kiting holiday.
Most also offer a range of non-kiting activities, so everyone is catered for.
Where to go When.
I guess it's obvious but it's vital to check that you're going to the right place for the time of year!
The International Kitesurfing Organisation (IKO) has a great website with a destination finder tool that allows you to select the time of year. That's a great place to start narrowing down your options.
https://www.ikointl.com/destinations
Some destinations are great all year round for wind but not great for a beach holiday (I notice the UK shows up as an option in December on the IKO tool – great wind but you need 5mm wetsuit, gloves, hood, boots!).
If you have a destination in mind, check its wind stats and forecasts with the following link that also gives a summary of each location:https://www.windfinder.com/forecast/tarifa_hotel_hurricane
Personal Favourites
The great news is that there's always somewhere warm and windy, even in the middle of winter. Personal favourites (that I've been to so far) are:
Tarifa, Spain – Windy all year but most popular May to October for temperature.
Barbados – Silver Rock – Pretty good all year round but best time is July to December. I've had a great Christmas and New Year there.
Cape Verde – Santa Maria on the Island of Sal – Best time to go is November to April. Another Christmas holiday I've enjoyed.
Fuerteventura, Canary Islands – Best May to October.
Egypt – El Gouna – Best May to October, but I've had pretty good conditions there in December (Okay, I like getting way from the UK for Christmas!)
Dominican Republic – Cabarete – Best winds February to August but pretty good all year.
Turkey – Akyaka Village on Gokova Bay  – Best May to end of September for predictable thermal winds.
Brazil -Florianopilis – Guest article, courtesy of Lydiascapes.com
United Kingdom – I had to mention it as it's my home! and we've got an abundance of fantastic beaches all around our Islands. Not great for guaranteed sunshine as our weather is notoriously unpredictable. And the best winds are in the winter. But there's a reason some of the top world professionals, Aaron Hadlow, Hannah Whitely and Lewis Crathern are British.
If you're looking to visit the UK for great beaches and kiting, some of my favourite places include Rhosneigr in Anglesey, Broadhaven in Pembrokeshire and Black Rock Sands in North Wales. My home location, Wallasey Beach (in front of Derby Pool pub) is awesome for kiting and accessible to Anglesey and the rest of North Wales. Here's a nice little video of some of my buddies.
And we've even got our own resident BKSA instructor, Adam Crouch. Get in touch with Adam here for details. And if you want advice on places to stay around our area either contact me direct with a message in the comments box or feel free to ask Adam.
Video courtesy of Tim Collins Videography, Derby Pool Kitesurfers.
All the above destinations will be covered in more detail in separate articles.
Travelling with Kit
If you decide to go it alone on your kitesurfing holidays you'll either need to hire kit at the location, usually from a kite school or club, or take your own.
Prices for kit hire vary depending on the location but will typically be in the region of €100 a day in e.g. Tarifa, with discounts if you hire for a block of days.
It's a more costly option but good to know all the most up to date kit is available and you have no worries about not packing the right sized kites.
Whilst wetsuits (if needed) and harnesses are usually provided (usually at extra cost), it's best to take your own if you have them.
Taking your own kit can be a minor hassle if you're flying, but I do it all the time and it's just a case of knowing what and how to pack. Airlines all offer a sports gear option and the allowance ranges from 20 to 32 kilos usually.
A good tip is to not be restricted by booking it as kitesurfing gear. Often the golf or windsurfing gear option gives a bigger weight allowance for a bit more money. As a guideline I usually pay between £30-£45 each way depending on the airline and destination.
There are some great kite bags available which will take 2 boards, up to 3 kites and all the bars etc you need.
Split boards – A number of board manufacturers now offer a range of split boards. These split in two across the middle and are fixed together with overlapping flanges and screws.
Being totally honest, I've always been skeptical about whether these will work, and assumed that there would be a compromise in performance due to unwanted flexing. I would never previously have bought one. However, I was lucky enough to win one in a prize draw recently, from a company called Kite Elements.
I've been using the board at my home beach to try it out and can completely endorse the quality and performance. I would not know that it was a split board when riding. And I've put it through its paces in all kinds of conditions, and it's now the board I choose to ride most of the time.
The advantage is that the board will fit in a large hold-all or suitcase. And with a bit of careful planning I can get all my gear plus enough clothing etc in the hold-all without having the hassle of an extra kite bag.
A lot of airlines let you pay extra for more weight allowance on your check-in bags, so that's the way I'm doing it on my upcoming trip to Tarifa.
Here's a great video from professional kitesurfer Sam Light with a few neat little tricks I have to confess I've used myself more than once. (I often pop my foot under the kite bag as I put it on the check-in scales hehehe!). https://www.youtube.com/watch?v=8HJc240xYxg
Insurance
Whether you're going on a kitesurfing camp, kit hire or go it alone kitesurfing holiday, it's important to bear in mind that standard travel insurance won't normally cover you for anything that happens when you're participating in a range of sports, including kitesurfing.
It's not just the cost of damaged or lost kit you need to consider here. A far bigger risk is that you get injured and medical costs won't be covered by your travel insurance.
Fortunately there are a number of companies that specialise in sports travel insurance. It costs a bit more but I'd recommend it for peace of mind. And most will cover non-kiting travel companions as a package.
Big Horizons!
What better way to see the world than by travelling to places where you'll meet like-minded people who share your passion. Most of my trips abroad are kitesurfing holidays and a major benefit is that you find stunning locations that are off the beaten track for the average package holidaymaker.
I'd totally recommend it!
Most of the matters covered in this article are covered in separate more detailed articles so please check out the links to these.
And if you have any comments or questions, feel free to post them below or email me at adrian@kitemadworld.com
Affiliate disclosure:   As an Amazon Associate I earn from qualifying purchases, and, as the owner of this website I may also receive a small commission for any purchase you make as the result of clicking a link