If you're looking for a chilled out kiting holiday in tropical paradise, then Cabarete is the place!
Enthusiasts of the sport have been kiteboarding in the Dominican Republic pretty much since the beginning of time – measured by when kitesurfing started!
Situated on the same island chain as Cuba, Jamaica and Puerto Rico, on the Northern rim of the Caribbean.
The North side of the Dominican Republic is still unspoilt by mass tourism and is a place I've been to twice at different times of year, and I'll be going back as soon as I can.
The main centre for kiteboarding in the Dominican Republic is Cabarete, situated on the North Coast, only 20 minutes drive from  Puerto Plata Airport.
Although it does attract non-kiting holidaymakers, they are far outnumbered by kiters, surfers and windsurfers.
So the place has a laid-back and friendly vibe, with great beach bars and a main street that boasts a host of chilled out bars and restaurants as well as street-food stalls and small shops.
It's also a lot less expensive than a lot of other Caribbean destinations.
The Cabarete area starts at Encuentro at the North West end and stretches South East to La Boca, which is a narrow flat-water estuary at the mouth of the River Yasica.
The main two kiteboarding beaches are Bozo Beach, just to the left of the main beach as you look out to sea, and Kite Beach, a kilometre to the left of that on the other side of a small headland.
And of course, the wind is perfect 300+ days of the year with cross-onshore winds from the East (right), which start gently about 11am and pick up gradually through the day.
So time to sleep off the hangover if you've over-indulged on the very morish (and cheap) local rum, or the local beer Presidente. The Cuba Libres and Mojito's are highly recommended!
The wind conditions are ideal for beginners in the morning and more experienced kiters in the afternoon.
One of the great attractions of Cabarete is that you can find whatever type of conditions you prefer, from flat water to chop and great waves at Encuentro and out at the reef at Kite Beach and Bozo Beach (about 600 metres out).
And with water temperatures ranging from 26C in December to 29C in August, there's no need to pack a wetsuit!
Even in the "winter" December to February, the daytime temperature is around 28C rising to around 32C in August.
When to Go
The best times to go for wind conditions are beginning June to end September, and mid December to End of April.
During January to April there is more chance of storm swells from the Atlantic.
And it's worth bearing in mind that, although it usually doesn't get directly hit, August is the hurricane season and The Dominican Republic has been hit in recent years on occasion.
I've been at end of June and for Christmas and New Year and had great kiting both times, although there were a few non-kiting days on the winter visit.
The Wind
The North side of the Dominican Republic benefits from almost constant trade winds blowing from East to West. And in the Summer months this is amplified by the thermal effect of hot air rising off the land drawing cooler air in from the sea.
It generally kicks in around 11 am at about 10-12kts, building to 18-25kts by late afternoon.
May is the worst month for wind usually and October to mid December are also less consistent.
The Beaches.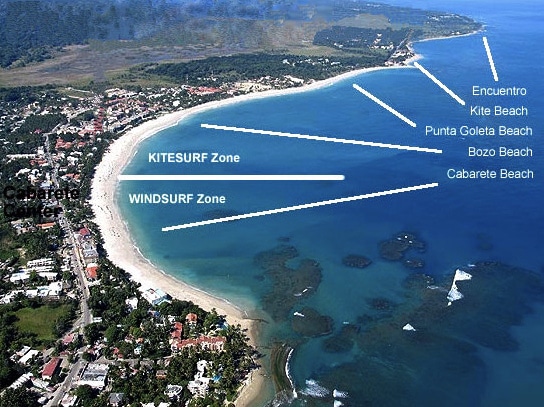 Playa Encuentro- Is about 4kms to the North-West of Cabarete town. It's mainly suitable for surfers and I've read recently that kiting is no longer allowed. It's known for it's great waves, so not ideal for beginners anyway.
Apparently there's no problem if you want to land there after a downwinder from Kite Beach or any of the other locations upwind of Encuentro. Most of the kite schools in Cabarete organise downwinders with lifts to the launch and landing locations.
Kite Beach- This is where it all began in Cabarete. It's located about 2kms from Cabarete town going North West and has ideal conditions with a shallow reef about 600 Meters out.
Inside the reef the water is generally flat with nice waves breaking over the reef.
There are a number of kite schools here and it can get a bit crowded in the Summer months, but if you head a few hundred meters out you'll always find space.
A word of warning – the local kiters seem to have no consideration for life and limb and you'll frequently see them throwing down some insane moves right next to the beach, often ending up on it! So work out who they are and give them space. It's their home beach after all.
The beach gets fairly narrow at high tide with palm trees just behind it so you need to be a bit careful not to end up in a tree!
Bozo Beach- Is Just around the headland of Punta Galeta, from Kite Beach, going back towards Cabarete.
It's actually just the left hand side of the main Cabarete Beach, less than 1 km from Cabarete town. This area is dedicated to Kiting, with a few kiteschools.
Conditions are similar to Kite Beach, with flat water inside the reef and a decent wave breaking on the reef.
In the winter months there can be a challenging shore-break to get through, so  it pays to pick your launch spot carefully.
Bozo is a very popular place for pro-kiters to hang out and compare their stuff and you've got a good chance of seeing some of the famous names giving it large, which is always impressive.
Cabarete Beach- To the right of Bozo Beach is the main Cabarete Beach, with sun loungers plenty of beach bars and restaurants and "normal" holiday makers.
Whilst I don't think kiting is forbidden here, there's no need and you won't see anyone launching or landing there.
This is a good place to park a non-kiting partner as it's only a 5 minute walk down the beach to Bozo, but beware of how time flies or you might be going home alone!
The windsurfers tend to hang out to the right of Cabarete Beach.
There are also a number of places that rent out SUP gear so a good place to try it out in the calm mornings or rare no-wind days.
In the evenings Cabarete Beach comes alive with beach front restaurants and bars offering a wide selection of cuisines. The sea-food is amazing. But expect to pay a bit extra here than on the main street just behind it or the lanes running off the main street.
Cabarete East- To the right of Cabarete Beach is a small headland, Punta Cabarete.
If you walk around the headland you come to a seemingly un-named beach, which is a pretty much deserted stretch of golden beach running for about 4kms down to La Boca at  the mouth of the Yasica River. Along this stretch are a number of Condo developments behind the beach.
Both times I've visted I've stayed at Barefoot Beachpad, a small 12 apartment set-up about halfway between Cabarete and La Boca. And I've kited from right in front of the apartments.
I've only ever seen two other kiters on the water there, so if you want to get away from the crowds it's ideal. But the reef is further out so the water is a  lot choppier and there's a fairly big shorebreak at some points.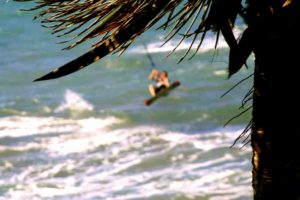 A good place if you're confident with self-launching and landing but you're usually on your own if anything goes wrong.
La Boca- At the far end of the "un-named beach" is the mouth of the Yasica River and La Boca. This is a flat water spot where the pros come to practice their freestyle tricks.
A number of the kite schools will take beginners there to learn the basics, but the estuary is pretty narrow, with tropical forest on both sides so it's not ideal for beginners to go to alone.
Buen Hombre- I have to admit I haven't visited Beun Hombre yet, but I'm hearing and reading great things about it and will definitely be checking it out next time I visit the DR.
It's about a 3 hour drive from Cabarete, heading West and is known as a secluded paradise spot, a lot less hectic than Cabarete can be.
Check out the links for yourself and let me know if you've been there!


Getting There
By far the easiest airport for Cabarete is Puerto Plata (POP), a mere 20 minute drive away. But if you can't get a flight to Puerto Plata, then Santiago is 1.5 hrs (US$100 by taxi.
Santo Domingo is 4 hrs away (US$200), and Punta Cana, the main all-inclusive holiday destination, 6hrs (US$400).
Getting About
The preferred mode of transport around Cabarete is the motoconcho. Basically locals with mopeds who will happily take one or two passengers on the back for US$1 anywhere in town.
If you want a bit of luxury there are plenty of taxis.
I've spent many an hour sitting at a bar on the main street watching the locals driving past, often with a whole family and a gas bottle on the back of a moped!
Car hire is available in Cabarete, but the driving is pretty mad and most places are within a walk or motoconcho ride.
Last time I was there we befriended a motoconcho driver and offered him some cash to drive us for the day in a hire car, so we could get out and see some of the roads and beaches less traveled. An amazing experience and a new friend for life!
All the kiteschools offer storage facilities so you can leave your gear there, which is a good option.
Where to Stay
There's an abundance of accommodation in Cabarete, ranging from luxury hotels (some all-inclusive) right on the beach to self catering villas, apartments and studios.
Both times I've visited I've stayed at the beautiful and laid back Barefoot Beachpad.
The owners, Ben and Evelyn and Evelyn's brother Hector, have become great friends, and their manager, Andre can't do enough to help you.
The 12 bedroom aparthotel is situated just East of the small neighbourhood of Barrio Blanco, a 20 minute stroll from Cabarete town and one step from a deserted golden beach.
KIte Schools
If you're after kite lessons or kit hire I'd totally recommend Cabarete Kite Point, run by Tracy Shayhorn (or "Racey Shay" due to her previous life as professional racing car driver).
Here's the link to her website    www.cabaretekitepoint.com.
The school is right in the middle of Kite Beach and she can sort out accommodation close to the school.
There are a number of dedicated "kitesurf camps" in the Cabarete area and also at Buen Hombre. Don't be put off by the term "camps" – some of them are located in the luxury beach front hotels and condos.
These are a great way to maximise your kiting time and most include the options of other activities, such as jungle excursions, kayaking, SUP and yoga.
Helpful Links
Affiliate disclosure:   As an Amazon Associate I earn from qualifying purchases, and, as the owner of this website I may also receive a small commission for any purchase you make as the result of clicking a link