In my article "Best Kiteboard for Beginners" I talk about the features you should be looking for in your first kiteboard and explain what effect the different design characteristics have.
The first thing to say about board choice is that virtually any twin-tip is usable, even as a beginner, but there are some features that will make your early days easier.
These are mainly:
Size – The right length and width (i.e surface area) will make it easier to get up and planing in the early days. Don't go too big. It'll help for the first few sessions but will limit your progression. But be realistic. My earlier article covers this in more detail.
Profile – Very square edges and tips make early planing and going in a straight line easier but will make the board more difficult to ride in chop and waves, and will make turns and transitions more difficult.
Rocker-line – A reasonable amount of rocker makes the board easier to ride in chop and waves but too much makes early planing more difficult, especially in light winds.
Flex – You want a reasonable amount of flex to make the board more comfortable to ride and land from your first attempts at jumps.
Foot-pads/straps – Should have a good amount of cushioning and be a snug fit to help keep the board attached to your feet. Don't use boots on your first board, they make it difficult to manouever to the water and also prevent you ditching the board when you have a wipe-out.
When it comes to kite boards for beginners the main thing to look for in the description of a board's style is "free-ride". This means the board is an all-rounder, good for flat water, waves, chop, jumps, turns and most tricks.
Don't confuse this with "free-style" which tends to mean the board is geared toward wake-style tricks and will be a bit too stiff for comfort in chop.
All the boards I've featured are great kite boards for beginners and have the right attributes to take you from beginner to advanced rider. As you progress and get a feel for the types of riding you prefer you may well buy other boards for different styles.
If there's one item of your kit that you can afford to save money on it's your first board. They're hard-wearing and a few scrapes and scratches won't affect the performance.
The main part that can fail is the footstraps. If they haven't been rinsed regularly they can perish and give way when you're out on the water.
If you want to buy second-hand, leave a bit of info in the comments box and I'll help you find something suitable.
But great boards can be bought new at very reasonable prices, especially if a retailer is selling off last year's model to make way for the next version.
I made the mistake of buying a massive light wind board as my first. Whilst it was easy to get up and moving on it, within a couple of sessions, especially in stronger winds, it was too big to control.
The next board I bought, a Nobile T5 (or rather the second one – the first disappeared out to sea off Cape Verde – another story) still comes with me every time I go to the beach. I don't always use it but only because I'm playing with a new board with more advanced characteristics. But I definitely haven't outgrown it.
The boards I've featured will all give you the same years of use as I've had from my T5's.
Here I've chosen 5 boards that I know will take you from your first tentative steps to a fairly advanced level.
I've also provided links to eBay pages where these boards can be bought new as I've found that eBay has the best selection at the best prices. Have a browse to get an idea of the prices.
---
I have to be honest, I love this board, but that's because it's seen me from my very early stages right through to where I am 18 years later, and is a great all-round board.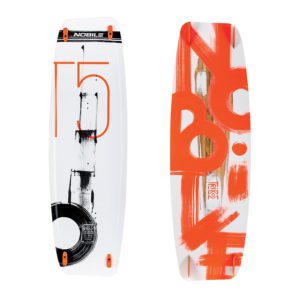 The main features are:
Dynamic flex – the board is designed stiffer at the centre with progressively more flex towards the tips.
This makes early planing easy but means the board is very comfortable in chop and waves. The flex at the tips makes it very forgiving in hard landings from jumps.
It also gives it great"pop" – a term you'll soon understand when you start to get airborne!
Light weight – It is light and feels it. This makes it easier to plane in light winds and has the effect of making you feel connected with the water surface. It also helps with big air jumps.
Wavy bottom channels – Very subtle concave channels on the bottom surface keep the board going in the direction you want and make up-wind travel a lot easier.
Asymmetric profile – The back "heelside" edge is longer than the front "toeside" edge. The longer heelside makes planing quicker and helps with upwind riding. The shorter toeside edge makes turns and toeside riding a dream.
T5 Wmn (Woman) version – It comes in a women's version with smaller footpads/straps, more closely spaced and a slightly different profile, more suited to women/girls.
---
A great board that lives up to its name. And new prices are very competitive too.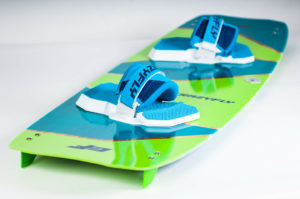 The main features are:
Soft flex – The board has dynamic flex, which makes it comfortable to ride and jump and gives it a reasonable amount of "pop".
Single concave channel – From 2017 models onwards the formerly flat bottom was re-designed with a single concave channel. This helps with direction and upwind performance.
Upgraded footpads from 2017 onwards – The new footpads have nice heel indents and a small toe ridge that makes it comfortable and snug-fitting.
---
A great all-rounder with much of the basic DNA of more expensive boards from the Cabrinha line-up, without the cost.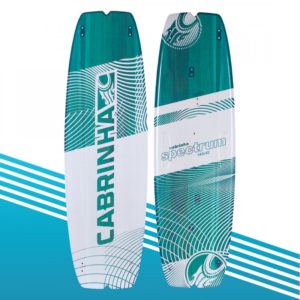 Great footpads/straps available in the H20 pads option that have a choice of base pads so you can choose softer or firmer feel.
A board that will see you from beginner to intermediate although the trade-off between flex and stiffness limits the "pop" very slightly in favour of ride comfort. Most beginners to intermediates wouldn't notice this to be honest.
The main features are:
Soft flex – Provides great ride comfort and means it handles choppy conditions nicely. Makes landings very forgiving.
Single concave bottom – Keeps the board going in the direction you point it and tracks it upwind a treat. Compensates nicely for more rounded profile.
Rounded profile and corners – Makes turns, transitions and toeside riding quick and comfortable and also helps with riding through waves and chop.
H20 Footpads/straps – Offer great comfort and feel secure under-foot without having to be so tight that it's difficult to get your feet out in a wipe-out.
---
Designed specifically for kiters wanting to progress from beginner to intermediate level this board is a great combination of value for money and useability.
It has a good amount of flex, which makes riding in chop and small waves easy and also helps with learning to jump. The high degree of flex helps absorb the impact of heavy landings.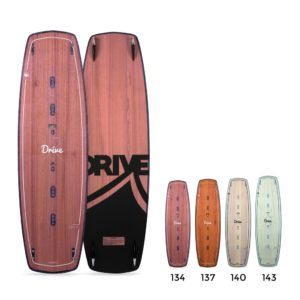 The main features are:
Soft flex – makes for comfortable, forgiving riding in chop and great for learning to jump.
Single concave bottom – keeps the board moving forward and tracking upwind.
Choice of footpads/straps – If you can, go for the Pro-pads. They have nice heel concaves and raise instep and toe ridge to help keep your feet firmly in place.
All the pads come in a choice of S/M or L/XL.
---
Duotone's (formerly North) entry level board, aimed firmly at beginners aspiring to progress.
Great build quality and plenty of flex to make for comfortable riding in chop.
The Gonzales also incorporates an innovation pioneered by Duotone, torsional flex, which means the board can twist slightly along its length, a feature designed to keep just the right amount of edge in contact with the water, which is great for early planing and upwind riding.
Main features:
Soft-flex – Makes the board comfortable to ride in chop. Also has more flex at the tips to help with riding into chop and waves and to absorb impact on landing from jumps.
Single concave bottom – Keeps the board tracking in the right direction and helps with upwind performance.
Rounded profile – To help with turns and transitions. This also helps with riding in waves and chop.
Contact us for Advice
As I've mentioned, all of these boards have been chosen for their great all-round performance and forgiving ride characteristics. You won't be disappointed with any of them. There are of course many similarly suitable boards available from most manufacturers, but look out for boards that have similar features to these ones.
A lot of the process of choosing the right board for you comes down to how much experience you've had when you buy and also the direction you expect to take your future kiting, whether you'll be boosting large (that's big jumps), free-riding or just getting out in whatever conditions you find.
And if you need advice on kites check out my article Kitesurfing Kites for Beginners.
So please leave a question below and I'll happily point you toward the right board for you.
Affiliate disclosure:   As an Amazon Associate I earn from qualifying purchases, and, as the owner of this website I may also receive a small commission for any purchase you make as the result of clicking a link