I've been kiteboarding in Cape Verde twice so far, both times in the Island of Sal.
And it's one of those places that is on the radar for another visit definitely.
Located 570kms off the Peninsula of Cape Verde in Senegal, NW Africa, out in the Atlantic, This archipelago of 10 volcanic islands enjoys a great combination of constant warm climate and almost constant wind for 8 months a year.
Sal is the most populated island and the one that is home to the capital, also Sal. It's also recognised as one of the best kitesurfing locations in the world with the GKA (Global Kitesports Association) wave-riding event regularly being held at Ponta Preta on the West coast.
The main destination for holidaymakers and kiters on Sal is the small town of Santa Maria, which has a chilled out feel and a main street with every variety of food and very laid back bars. There's also a promenade which has recently been made along the length of the bay with a range of beach bars.
The other islands have been pretty much off the travelers' radar until recent years and the next biggest island Boa Vista is also now becoming a popular destination.
As a former Portuguese colony it has an interesting combination of African and European culture and feels very like a Caribbean island – but with the benefit (for me anyway) of being only a 6 hour flight from most European countries.
The combination of wind, sun and endless pristine golden sandy beaches makes kiteboarding in Cape Verde a must if you want to get away from brutal North European winters.
When to Go
The temperature is almost always in the range 25-30C in the daytime and rarely less than 18C at night. And the water temperature is around 25C all year.
But the wind tends to be pretty sketchy or non-existent in the rainy season between end of May to end of September.
Between October and May is the dry windy season and the windiest months are February and March. But both times I was there for Christmas it was windy for at least 10 days out of 14.
The Wind
The islands get North Easterly Trade winds that blow down from the Sahara pretty much constantly during the windy season and vary a little between North easterly and Easterly.
When it is windy it tends to be pretty much all day, but is usually strongest between about 9am and 3pm. So plenty of time to party and sleep it off ready for tomorrow!
The Beaches
Sal is surrounded by fantastic beaches but I have to admit to only having kited at Kite Beach (Shark Beach) and Santa Maria. When you find the perfect spot it's sometimes difficult to pull yourself away!
There's a whole range of beaches up the West coast which tend to be offshore and are famous for big waves. But the two main beaches for kiteboarding in Sal are Kite Beach on the South East coast and Santa Maria Bay just along from it on the South coast.
Kite Beach- Also known as Shark Bay, but don't let that worry you – there are only a few munchings each year! Only kidding – there aren't any sharks, it's a name given to it by the first Portuguese settlers and it's stuck.
This is where most of the kiting happens here. Pristine golden sand and a 3km long beach.
The wind is on-shore or slightly cross-onshore. The water is not exactly flat, there's usually a bit of wind-blown chop and decent waves at high tide. So not perfect for absolute beginners, but a great place to learn how to ride chop and waves in safe conditions.
At low tide it's still kiteable across the whole bay but does get shallow near the beach so be aware of how much water is under you before you boost large!
There aren't any kite schools at Kite Beach, but all the schools in nearby Santa Maria take their students to Kite Beach when it's appropriate.
Because of its lack of facilities and constant wind it tends to only attract kitesurfers and windsurfers so you won't be bothered by normal people!
Quite honestly one of the most beautiful beaches I've kited from!
There's only one small beach-bar shack and no toilets, so go prepared.
The best way to get there assuming you stay at Santa Maria, is by taxi – a 15 minute ride for about 5€
Santa Maria Bay- As I mentioned earlier, Santa Maria is the main holiday destination in Cape Verde and is where most people stay. The bay is right in front of the small town with the town at the Eastern end of the bay.
It lies on the South Coast, just around a headland from Kite Beach and sweeps round to a prominent sandy headland at the Western end of the bay.
Conditions vary depending on where you are on the beach. But at the town end the wind tends to be cross-offshore and a bit gusty. As you move further down the 3km beach away from town the wind becomes cross shore then cross on at the far end, because of the shape of the bay.
Because the wind is travelling across the headland between Kite Beach and here it tends to be less strong than at Kite Beach.
But it's still a great place to kite if you pick the right part of the beach in the right conditions. But I made the mistake on my first visit of writing off a couple of days because the wind wasn't strong enough, before I discovered that everyone was blasting all day at Kite Beach.
Whilst kiting in offshore winds is not really advisable for a beginner, as long as you don't stray too far out then it's pretty safe as the headland at the Westernmost end will catch you if you get in trouble.
I have to admit, this advice is based on me making the mistake of getting too enthusiastic and going too far out. The result was a lost board and a long body-drag to the headland, then a walk of shame to get back to the main beach.
I'd like to think you live and learn!
Most of the kite schools are around the middle section of the bay, where the flat conditions are pretty beginner friendly. And there's plenty of places to get refreshments etc.
Ponta Preta- Apart from Maui in the Hawaiian islands, this is probably one of the most famous beaches for wave kiting. A 10 minute drive from Santa Maria, up the West coast it's worth a look, even if you don't feel up to kiting it.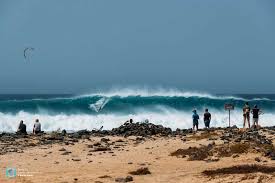 Definitely a place for advanced kiters who like waves, the wind is offshore and the waves vary between 3-6metres high normally.
So if you venture here to kite, treat it with the respect it deserves or take your passport because the next stop's Brazil!
Where to Stay
There are plenty of good hotels in Santa Maria and all are within walking distance to the town and the beach.
Which you choose is really down to your budget. Both times I've been I've stayed in apartments at Porto Antigo. This is the tiny old disused harbour at the Eastern end of Santa Maria Bay, next to the Odjo di Agua Hotel. A stones throw from the main beach and a 5 minute walk to town the apartments in this development are peaceful but handy for everything you need.
All the main hotels and apartments are available on Hotels.com.
If you want to go for an all-in kiting package with tuition and kit included check out Book Surf Camps.
Tell Us Your Thoughts
Overall, Sal is a great place to kiteboard and a place I'll definitely return to. But if you've already been or are considering it, please leave your comments below or email me at adrian@kitemadworld.com
Affiliate disclosure:   As an Amazon Associate I earn from qualifying purchases, and, as the owner of this website I may also receive a small commission for any purchase you make as the result of clicking a link