If you've read my article "A Guide to Best Kites for Beginners" you'll have a good insight into the different types of kite design and how they might affect the choice of kitesurfing kites for beginners.
Firstly, kite design and manufacture has come a long way over the years, and there aren't many "bad" kites out there in terms of quality if you buy fairly recent models (say, less than 3 years old).
Secondly, there really isn't any such thing as an out and out beginner kite. Most hybrid kites will see you through your early learning stages and then remain suitable for a long time after that.
As you progress you'll decide for yourself what style, or more likely styles, of kiting you prefer or simply are more likely to do because of your local conditions.
I've assumed you've had a few lessons already and are reasonably comfortable with controlling a kite.
So the kites I've chosen to feature here are ones that will see you through the next early days, of putting what you've learned into practice and then onwards for a good time, if not years afterwards.
I've pulled together my own experience of some of these kites along with the views of fellow experienced kiters, including qualified instructors.
There are other kites out there that are great quality and good for beginners. However, I've chosen to recommend only those kites I have direct knowledge of from using them myself and/or from my discussions with kiters I know and trust.
I've included links to great deals on the recommended kites, so feel free to check out the prices there.
If you'd like advice on any others you might be looking at feel free to post a question below.
All of these kites are user friendly and have all the attributes that you'll want as a beginner/intermediate kiter:
Stability
Depower
Easy re-launch
Good safety system
Strong build quality (i.e. thrashability!)
You won't be disappointed with any of these kites so the choice will come down to availability, budget, and possibly how ambitious you are in terms of progression as most will see you right through to advanced level kiting.
My Featured Kitesurfing Kites for Beginners – And on into Intermediate to Advanced Kiter: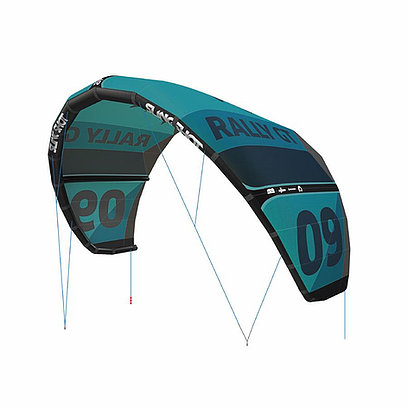 Slingshot has always been renowned for top quality construction and materials, so whilst they come at a higher price than some competitors, they will take pretty much any amount of thrashing you're likely to throw at them. So re-sale value is always good.
The Rally has always been Slingshot's all-round kite aimed at the beginner to intermediate rider looking to build their skills and progress to more advanced disciplines.
The V2 is the second version of the latest evolution of the Rally, the GT. And there have been some significant changes, all of which enhance the wind range, versatility and durability of the kite.
The changes to the kite will also mean that it will see you through to a much more advanced level than the previous versions, without holding you back.
The Rally GT V2 is a hybrid kite with a very slight bias towards C-shaped and swept-back wing tips which give the appearance of a delta kite. This helps vastly with re-launch from the water, which is super easy.
The canopy of the kite is made from quadruple rip-stop material which will make it massively durable and ensure it keeps its shape for years to come.
In fact everything about the kite oozes Slingshot's legendary "bomb-proof" reputation, and you just know it will last years no matter what you throw at it. It also means it will hold its re-sale value.
The kite flies and turns fast to give you plenty of fun without any nasty surprises and jumping with the kite is easy and forgiving so ideal for nailing your first tricks.
The wind-range is amazing too. The low-end is good but the kite's lack of fluster in winds at and above the top-end of its range mean it will inspire confidence to go out in changeable and gusty conditions.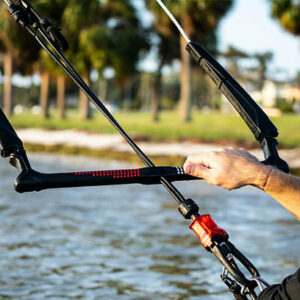 The bar offering from Slingshot has been simplified for 2021, and they now offer one bar, The Sentry.
The Sentry bar is beautifully simple and clean with comfortable and durable padding on the bar and Slingshot's super strong lines.
The trim is above the bar and the quick release mechanism is a simple click-in system to make re-setting really easy after a release.
---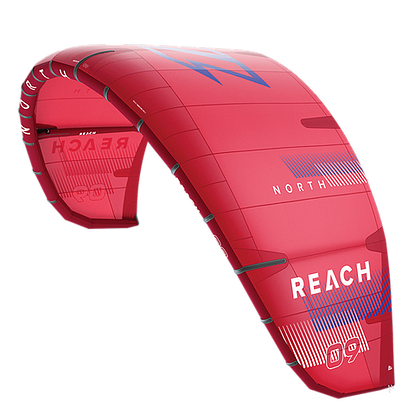 North Kiting has been around since the dawn of time, with its origins in sailing, windsurfing and, later, kite design. 
In 2018 there was a big corporate shake-up in the parent company, who at the time owned North Kiting and Cabrinha. They re-branded the kiting division to Duotone and closed down a whole division. The result was that the main design and production team left Cabrinha and formed the new North Kiteboarding brand.
Why am I telling you this? Well, there's a lot of confusion over where Duotone and North fit into the market and you'll see a lot of older kites such as the Rebel, Evo and Neo with the North brand name. From 2018 onwards though the original North range was re-branded to Duotone.
After that time North Kiting became a completely separate entity. 
The DNA of the new North Kiteboarding range is based on the best of all the brands, and with a clean sheet, the design team were able to create a range based on the best modern technology and give the kitesurfing community a range that is designed to meet all their needs in the best way possible.
The Reach is North's all-round kite. In fact they have called it the "desert island" kite. It's the one you'd take if you were confined to a desert island for a year!
And what they've created in the Reach is a kite perfect for the beginner, but also suitable for the recreational free-rider who also wants to ride a surf board or foil.
The technology that has gone into this 3-strut kite is all about light weight, strength and stability. They have used double rip-stop material in the canopy to optimise strength to weight ratio. This gives the kite a fantastic low wind capability and also helps with its responsive turning speed.
And it feels amazing on the water, with the same light yet connected feel at the bar regardless of whether it is right at the low end of its wind range or right at the top.
Re-launch is effortless due to its larger volume at the centre which helps it roll onto a tip ready to steer back up.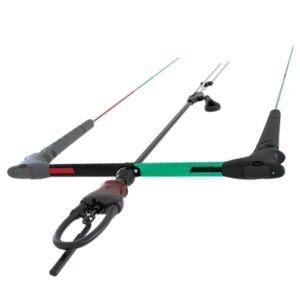 North has kept their bar choice simple – they only have one – the Navigator, which has just been tweaked for 2021. It comes in 3 sizes, all adjustable but the 50-55cm bar will suit most kite sizes in a normal quiver.
It's simple, robust and comfortable to use, with great EVA grip on the bar, easy to use trim and click in quick release to make re-loading simple.
All in all it does everything it should in a no-fuss, confidence building way, so that you can concentrate on the important stuff – getting out there and shredding!
---
Cabrinha has been around since the very first pioneering stages of kitesurfing and the switchblade is in its 13th year of production.
However, in 2018 there was a big corporate shake-up within the top 3 kite brands and, without boring you with the detail, a large part of the Cabrinha design and development team went to North Kiteboarding.
The upshot of this is that Cabrinha's former cutting edge innovation has come to a bit of a halt.
So why am I recommending the Switchblade?
Well, to be honest, this kite still has a loyal following, and you will find it recommended frequently. So I feel you should know whether it still fits the bill as a kite for beginners. 
If you're looking to buy a new kite then, in all honesty I would steer you way from this kite as you can get much more modern innovation for the same money from other brands. 
The kind of innovation I'm talking about here is to do with durability of materials, weight and versatility.
However, if you're looking at kites up to about 3 years old, rather than new, then the Switchblade is not a bad option. 
The Switchblade is a hybrid bow (although getting close to a hybrid C) in terms of its profile. Although not a delta kite it has very narrow wing tips  that give it many of the advantages of a delta, particularly ease of water relaunch.
There's plenty of de-power and when the QR (Quick Release) is fired, it'll drop gently to the edge of the window, completely de-powered.
Extremely stable in the air, this kite won't give you any nasty surprises in lulls and gusts.
That said, by more modern standards the Switchblade is a bit slow turning due to it's heavy 5-strut design.
There is a range of control bar options from Cabrinha but, if you have the option, I would keep it simple (and less expensive) and go for either the fixed length 1X Trimlite with Quickloop option or the slightly pricier Overdrive 1X with Trimlite and Quickloop which is adjustable in length so will suit all kite sizes.
Trimlite With Quickloop
The fixed length bar comes in 3 sizes, 44cm, 52cm and 60cm. the 52cm would be suitable for all the above kite sizes although the adjustable bar or additional 44cm bar would be more suited if you're going for the smaller 7m kite.
Both bars have "above the bar" trim systems which means the trim strap is out of the way of the chicken loop and quick release, my preferred option.
In summary, the Switchblade is not a bad buy if you're paying up to about £600 for a second-hand one, but I wouldn't recommend buying a new one. 
---
F-One Bandit
The F-One Bandit was the original Delta C kite and is now also in it's 12th year of production. Each year comes with a different roman numeral number, so it's easy to work out how old a second hand offering is.
The 2019 model is the Bandit XII, although the next model, already out now has been named the Bandit 2020 and F-One have brought out an alternative kite designed mainly for wave-riding, The Bandit S.
So if you're going for the brand new model you should be looking at the 2020, not the S.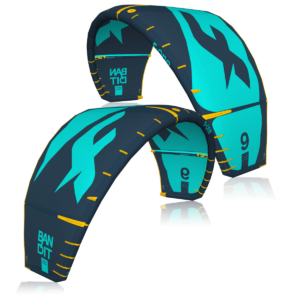 Although I've previously advised that a C kite is not suitable for beginners, this is a hybrid C, with a bridle and like the other C biased kites already featured, is more than suited to an ambitious beginner.
The Bandit is renowned for great wind range and you'll often see Bandit owners fully powered on a 9m when everyone else is on 11 or 12m kites.
This power range comes from the deep Delta shaped canopy and bias towards C-shape. But don't be put off by this.
As kites for beginners go this one has all the de-power, safety and ease of re-launch you need.
It sits easily through gusts and lulls and won't give you any nasty surprises.
But when you get to the stage of wanting to boost big jumps and other tricks, it's zippy turning speed and deep canopy offers years of fun and progression.
F-One's bar offering is the Linxbar which comes in 2 main sizes, both adjustable, the 52/45cm and 45/38cm. There's a 3rd size designed mainly for the S model a 42/35cm bar.
The bar is simple and functional, with above the bar de-power and all the features, like comfort and ease of safety and trim, that you'll need.
A word of warning if you're buying second-hand. Whilst the early Bandits were great kites, with all the flying  attributes of the newer models, they did have a tendency to turn through the lines in the water, causing problems trying to re-launch.
Enhanced design features on everything from the Bandit VII onwards have eliminated this problem, so stick to kites no older than about 5 years old – good advice anyway when buying any kite secondhand.
>>>>CHECK OUT THESE OFFERS<<<<
---
My Personal Favourite:
As I said, all 4 of these kites are suited to a beginner with aspirations to move quickly on to intermediate and beyond.
If I had to pin my hat to which is best for a beginner I would probably go with the North Reach, mainly because of its all round ability and fantastic wind range.
It's a very close decision between the Reach and the Slingshot Rally though. The Rally will take a lot more thrashing because if its 4 ply rip-stop material, but the trade-off is a bit more weight which has a slight impact on its light wind performance compared with the Reach.
Both are proven kites for beginners and used widely by kite schools.
Ask for Advice
If you're looking at second-hand kit on-line feel free to ask my opinion  via the comments box below and I will get back to you asap.
Let me know what stage you're at, what kind of budget you have and a bit about your size and weight and I'll be happy to suggest some kites currently available on the second-hand market and pick some out that I believe would suit you.
Always happy to help!
Other articles you might find helpful:
Affiliate disclosure:   As an Amazon Associate I earn from qualifying purchases, and, as the owner of this website I may also receive a small commission for any purchase you make as the result of clicking a link
Please follow and like us: