Choosing the right kite to learn on can be a minefield, so here I'll look at what I believe to be the 5 best kitesurfing kites for beginners.
If you've read my article "A Guide to Best Kites for Beginners" you'll have a good insight into the different types of kite design and how they might affect the choice of kitesurfing kites for beginners.
Firstly, kite design and manufacture has come a long way over the years, and there aren't many "bad" kites out there in terms of quality if you buy fairly recent models (say, less than 3 years old).
Secondly, there really isn't any such thing as an out and out beginner kite. Most hybrid kites will see you through your early learning stages and then remain suitable for a long time after that.
As you progress you'll decide for yourself what style, or more likely styles, of kiting you prefer or simply are more likely to do because of your local conditions.
I've assumed you've had a few lessons already and are reasonably comfortable with controlling a kite.
So the kites I've chosen to feature here are ones that will see you through the next early days, of putting what you've learned into practice and then onwards for a good time, if not years afterwards.
I've only featured kites that I have direct knowledge of and have tested myself. And, as a BKSA qualified instructor, I have either used these kites to teach with or would be happy to recommend for a beginner.
I've included links to great deals on the recommended kites, so feel free to check out the prices there.
If you'd like advice on any others you might be looking at feel free to post a question below.
All of these kites are user friendly and have all the attributes that you'll want as a beginner/intermediate kiter:
Stability
De-power
Easy re-launch
Good safety system
Strong build quality (i.e. thrashability!)
You won't be disappointed with any of these kites so the choice will come down to availability, budget, and possibly how ambitious you are in terms of progression as most will see you right through to advanced level kiting.
The following is a summary of each of the featured kites, with links to the full review.
My Featured Best 5 Kitesurfing Kites for Beginners
Eleveight RS V6
Eleveight is a fairly new brand to kitesurfing but was evolved out of the design team from Best Kiting, who brought great quality affordable kite gear to the market. Best went out of existence in 2017, mainly due to the accountants driving design, rather than kiters.
In the same year, Eleveight was founded by the main people in the design team.
And their brand has gone from strength to strength with proven build quality and constant innovation.
The RS V6 is Eleveight's "crossover" kite, designed to meet the needs of a wide range of recreational kitesurfers, right through from beginner to advanced.
The kite is stable, responsive and easy to re-launch and we've been happily using the RS to teach beginners, as well as riding them ourselves.
In terms of budget, The RS is very competitive, particularly if you're looking for a kite that will take you on to intermediate and advanced level without having to change your quiver.
---
Ozone Catalyst V3
Ozone has been around wind sports since the dawn of time, and have always taken a no-nonsense attitude to kite design with kites that are firmly aimed at their target rider.
The all-new Ozone Catalyst V3 is aimed very much at the beginner and intermediate market with it's lightweight one-strut design perfect for getting the beginner out in light winds.
This kite will get you up and running when other kiters are struggling to keep their kites in the air. But, the surprise is that it also stays stable at the higher end of the wind-range so won't give you any nasty surprises when the wind picks up or gets gusty.
We've started using the Catalyst V3 for teaching and its forgiving nature, ease of re-launch and upwind ability is perfect to get you from your first water starts to intermediate level.
The pleasant surprise is that it allows you to do easy floating jumps too, so is ideal to master your first free-style tricks, if that's the way you choose to go.
Price-wise the Ozone Catalyst V3 is at the bottom end so will definitely appeal to the beginner who doesn't want to splash out for some of the more advanced kites featured here.
Once you get to the higher end of intermediate level you might want to upgrade, but it won't leave you behind in your progression and you might even decide to keep a couple in the quiver for light wind days.
---
Core Nexus 3
Core is a German brand and has been around since 2001, although it's founder and CEO Bernie Hiss was playing around with kites on the water before the sport even took off properly.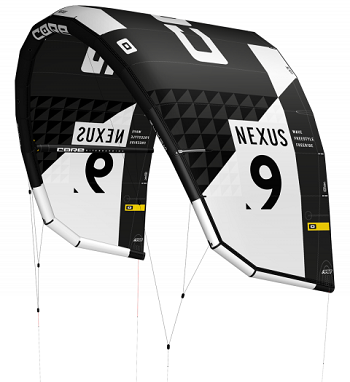 Their designers have always been focused on performance and build quality and that's reflected in the line-up of their kite range now.
The Nexus 3 is Core's all-round kite designed to meet the needs of the kiter who does a bit of everything. And it's probably the most versatile kite I've flown.
It meets all the criteria a beginner needs too, with great wind-range, stability and easy re-launch.
The build quality and materials are among the best on the market, so these kites have been proven to hold up well on the second-hand market.
Core is at the higher range in terms of cost, but you really are getting what you pay for – the kites should last a long time, which will save you money in the long-run.
---
F-One Bandit XV
The F-One Bandit has been around for 15 years now, and has a cult following. And for good reason.
Designed as an all round kite with the ability to do whatever a free-ride or free-styler wants to do, the kite has massive wind range and great de-power.
It will suit you if you are a beginner with aspirations to progress fast and don't want to be changing kites in a year or so's time.
It does everything you need in a beginner kite and is easy to fly and re-launch. But crank on the steering and you've got a freestyling, boosting machine that will keep you entertained right through to being an advanced rider.
They don't come cheap, but you can get away with one less kite in your quiver because of the range so having the Bandit XV could save money in the overall picture.
---
Ozone Enduro V4
Ozone has been in the business of kite manufacture since the very beginning and has been making paragliders for even longer. A British owned company with manufacturing in its own sate-of-the-art factory in Vietnam, it has a reputation as one of the highest quality brands in kitesurfing.
The Enduro is Ozone's answer to the highly competitive "all round" kite niche, and does the job well. It has all the attributes you'll need to take you from your first independent runs to anywhere you want to go in the sport.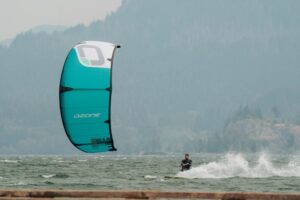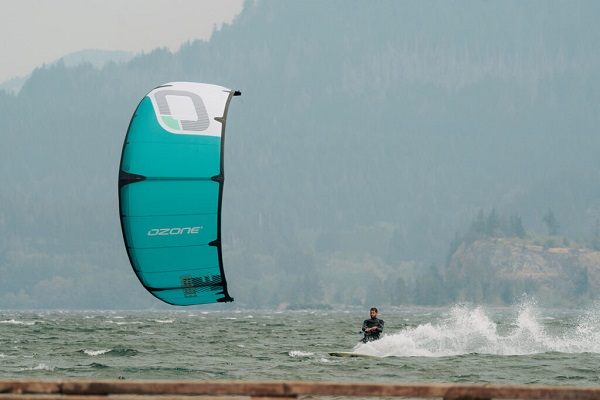 The 4th version of the Enduro makes it even more user-friendly, with incredible stability, fast turning and easy re-launch. 
Although it isn't specifically designed for beginners (very few kites are these days), it does everything you need it to, without any nasty surprises, and will not leave you wanting an upgrade as your kiting progresses.
And it really is a kite that allows you to easily switch from free-ride and boosting to free-style tricks or wave and foil-boarding. It has 3 easy to change settings to switch between each.
---
My Personal Favourite:
As I said, all 5 of these kites are suited to a beginner with aspirations to move quickly on to intermediate and beyond.
A big part of the decision comes down to your budget. If you mainly want to save money and get out on the water in light to moderate winds, then the Ozone Catalyst is ideal.
If I had to pin my hat to which is best for a beginner I would probably go with the Eleveight RS V6, mainly because of its all round ability and fantastic wind range.
The RS will keep you happy when you start boosting larger tricks, whereas the Ozone will eventually limit the level you can progress to.
And, compared to the other kites featured the RS is amazing value for money, without compromising on build quality.
If cost isn't a big problem for you, then I'd definitely take a look at the Core Nexus 3, simply because of the build quality and all round flexibility to use them for anything you want to ride on.
All  are proven kites for beginners though and used widely by kite schools.
Ask for Advice
If you're looking at second-hand kit on-line feel free to ask my opinion  via the comments box below and I will get back to you asap.
Let me know what stage you're at, what kind of budget you have and a bit about your size and weight and I'll be happy to suggest some kites currently available on the second-hand market and pick some out that I believe would suit you.
Always happy to help!
Other articles you might find helpful:
Affiliate disclosure:   As an Amazon Associate I earn from qualifying purchases, and, as the owner of this website I may also receive a small commission for any purchase you make as the result of clicking a link