Once you've mastered the basics of kitesurfing you'll definitely want to start boosting your first kitesurfing jumps. And the introduction of the Woosports jump sensor has revived massive interest in "Big Air Kiteboarding". But the recent introduction of the Surfr App has led to a few questions over which is the best. So in this article I'll look at the Woo 3 Vs Surfr so you can decide for yourself.
What Are Jump Sensors? – And How Do They Work?
Both the Woo, which is now in its third version, and the Surfr app use similar technology to measure the height and duration of kitesurfing jumps. The difference is that the Surfr app is a free download to your smartphone and uses the phone's inbuilt motion sensors to detect and measure jumps. This means you need to have your phone either attached to your board inside the mount they can supply, or carried on your body.
The Woo on the other hand uses a small sensor attached to your board. This connects to your smartphone via a dedicated app, when you return to dry land, at which point your session is downloaded to the phone.
You can also connect the Woo to a smartwatch so you can see your performance in real time.
The sensor itself is about the size of a matchbox and fixes to a stick-on mount near the centre of your board.
Now for the complicated bit!
The Woo 3 uses a 9 axis motion detector to sense changes in acceleration in different directions. The in-built algorithm compares all the data on acceleration in the 9 different axes to detect the initiation of a jump (or other tricks) and then the relative change in vertical (and other) movement.
By automatically analysing all the relative data the device detects the height and time of various tricks, including jumps.
The Surfr app uses similar technology that is built into most modern smartphones.
Both allow you to store, analyse and share your achievements via an app, which is available for both Android and IOS devices, including smartwatches in the case of the Woo.
And this is where they can be so much fun!
Both incorporate a "leaderboard" that shows the achievements of the whole community on each app, but also selected members or groups, either peers or by region.
So you can see how your jumps compare with the pros around the world, but more importantly for most of us, with our own peer group and our own previous performance.
But it's not just about jump height. The Woo 3 allows you to score freestyle tricks based on various measures, such as rotations and G force. There is no indication yet as to whether this will be possible via the Surfr app.
For most recreational kitesurfers who neither have the time, skills or wish to enter formal competitions it could be argued that the introduction of these devices has allowed us all to get involved in kitesurfing competition in an inexpensive and easy way.
Any kiting session you want to can now be turned into an opportunity to push personal boundaries and compete with whoever you want to.
---
Woo 3
Woosports was the first to introduce the jump sensor in 2015. The Woo is designed specifically for kitesurfing, although it can also be used for other sports such as snowboarding and skiing.
Although I couldn't get any data directly from Woo on how many units have been sold they have over 31,000 users on the Global Leaderboard (every session you download is automatically shared to this), 22,000 followers on their Facebook page and over 26,000 on Instagram, so that gives an idea of the numbers of people in the "Woo Community".
The original Woo 1 and Woo 2 definitely captured the imagination of the kitesurfing community and are still being used by thousands of kiters. However, the latest version has significantly more features such as integration with smartwatches, so that you can see your performance instantly without waiting to download the data back on the beach.
They've also significantly improved the battery life to 8+ hours and durability of both the sensor and its waterproof mounting, to withstand the worst you can throw at it.
The Detail
What's in The Box?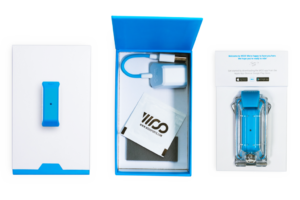 The Woo 3 Sensor
Board Mount Housing
Charger
Free app for Apple or Android devices
The "Hardware"
There isn't a lot to say about the actual device to be honest, It's a little blue plastic box! It's what's inside that does the magic.
The sensor itself measures 5.4 x 2.2 x 1.7 cms and everything's contained within that. The mounting it goes in is made to fit, so only slightly larger. There's a single button on the side that operates everything and the mount has a waterproof button that allows you to operate the sensor when it's inside.

There's a single LED indicator on top that tells you what mode it's in – completely foolproof!
at the other end is the connector for the charger that fits a normal USB socket in a phone charger or laptop.
The App
The App is free to download and join the community, and the Woo is basically controlled from the app (apart from switching it on and putting it in record mode).
It's really simple to set up, you basically set up your profile, link it to your phone and then log in and pair the two either to change the mode or download your session.
The Woo 3 has two modes: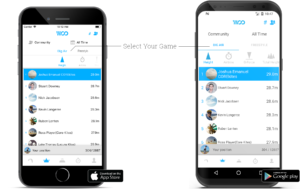 Big Air – Measures jump height, air time and highest jump.
Freestyle – Uses artificial intelligence to score a range of tricks, designed in conjunction with pro kiteboarders.
Both have their own separate leaderboards.
You select which mode you want to measure, using the app, before each session.
There's also the facility to compare with specific community members or members in any location. Each session you download is automatically entered into the leaderboard.
At present the app is only available for IOS and Android, although it can also connect to Apple, Android and Garmin smartwatches so that you can see each jump (in Big Air mode) instantly.
At the end of each session you simply get your phone, turn the Woo sensor to standby mode and then, when the phone and sensor have paired again, download your session.
Woo Pro
Woosports has recently introduced an additional dimension to the app which is entirely optional but adds a whole new range of analytical ability over and above the normal app functions. It also allows you to connect your performance and get feedback from the Pro community.
Another welcome feature of the Woo Pro addition is GPS tracking.
Personally I don't see a huge benefit to Woo pro for the everyday recreational kiter, even at the reasonable price of US$6.99 per month ($46.99 per year). But it's a great function for those really looking to up their game. And who knows what else they'll include in the future.
Cost
The Woo 3 package comes in at a cost of approximately US$200 (€180, £155), which includes the Woo 3 sensor, charger and mounting box. However, readers of this article can purchase the full package for £145 and additional mounting boxes for £18 – just click below:
The App is free to download and use.
Woo Pro costs US$6.99 per month or $46.99 per year.
Additional mounting boxes are available at a cost of approximately $20, so you can attach your Woo to as many boards as you want to.
---
Surfr App
The Surfr app was introduced in 2020 to use existing technology already built into most smartphones including iPhones from 6 upwards, and most Android phones. A full list of compatible phones is available on the Surfr website.
No sim card is needed if you just want to measure and record jump height and airtime although you will need a sim if you want to access additional features such as speed achieved, tracking and live feed.
There are 2 modes available:
Wetsuit Mode
Board Mode
In Wetsuit Mode the app simply runs in the background, recording your session. It's designed for those who don't want to risk attaching their phone to the board, with the obvious risks of damage or loss. So all you'll need is the app and a waterproof pouch.
In Board Mode the phone must be attached to the board on a flat surface in "landscape" i.e with the phone mounted lengthwise.
Surfr provide a board mount which they claim will suit 99% of phones in use. There were some major problems with the first version of the mount in terms of water tightness and it becoming detached.
The new version of the mount, which seems to have been significantly improved, is currently (June 2021) awaited but is available to pre-order at a cost of US$40.
In Board Mode the phone displays in big clear numbers the jump height in real time. This is a compelling advantage of the app as you can immediately see how high you've just jumped. It also has live feed (if connected to the internet) so you get updates on jumps achieved by your peers. And they can also see your live feed.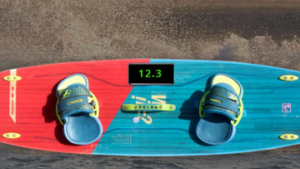 The app only works with smartphones, not watches, so the obvious question is whether you are happy to take your precious phone out on the water.
There's obviously the option to use a second (older/cheaper) phone, either with or without a sim.
Although the app is still fairly new, it is getting a growing number of users. But at this point there is nowhere near the level of community the Woo enjoys.
Cost
The app is free to download and use.
The new board mount costs US$40 but is not yet available.
There may be extra costs if you choose to use a second phone with or without sim card.
---
Questions on Accuracy
Any Google search of Woo will bring up heated discussions on accuracy, particularly in comparison to the older Woo 2 and Woo1 sensors, with allegations that the Woo 3 consistently measures jumps higher than the earlier versions.
In their defence though Woosports have always stated that the jump measurements are an estimate, and it's notoriously difficult to measure the height of a kitesurfing jump as it starts from a constantly changing surface.
Numerous independent reviews (some good, some pretty amateur) have tried to compare the heights of jumps as measured by various versions of the Woo and also the now defunct PIQ device, and the Woo 3 does seem to measure higher than all the others.
That said, it's not conclusive whether the error is with the other devices or the Woo 3.
And Woosports are regularly updating the "firmware" software (available free to download) of the device to improve accuracy and functionality.
Let's not forget that until Woosports launched their device there was no way to measure, with ANY degree of accuracy, the height achieved by kitesurfers. And the professional bodies around the world have taken on board the Woo as the benchmark for jumping records.
The Surfr app has also been the subject of a number of independent comparisons with Woo 3, and overall the results are very similar, although the Woo 3 generally seems to be measuring an average of between 0.5 to 1 metre higher than Surfr.
It's quite possible that Woo 3 is the more accurate of the two as it employs a 9 axis motion sensor rather than just the accelerometer and gyroscope sensor used by Surfr.
But I believe we need to put this in perspective. The professional kitsurfing bodies have a good idea whether a jump is higher than say 10, 20 or 30 metres and have accepted the Woo 3 as the best measurement of just how much higher it is.
I personally am happy to know that a jump was roughly what it felt like and, more importantly, how it compares with my own personal best and that of my peer group.
As far as the Surfr app is concerned, the accuracy has not really been questioned, and it is gaining a lot of interest. But, given it is nowhere near as widely adopted yet as Woo, I feel it is a case of "watch this space" as far as Surfr is concerned.
---
Conclusion
The large following that Woo has attracted, and the interest in Surfr App, is testament to the fact that kitesurfers are a competitive bunch.
It's also revived interest in "Big Air" kitesurfing, which until the introduction of Woo, had been a bit side-lined in favour of free-style tricks. A lot of recreational kitesurfers don't aspire to pulling off highly technical (and sometimes painful) free-style unhooked tricks.
Reaching ever-increasing heights is however well within the ability of most kitesurfers once they master the basics and I personally will be using my Woo 3 for years to come.
The Surfr app is an interesting development and, given its relative low cost will gain in popularity as the community increases. I particularly like the instant read-out in Board Mode. However, the issues around having a phone attached to a board (e.g if you lose the board) will put a lot of kiters off.
The thing I like most about the Woo is the simplicity of it and the large community using it. It's difficult to compare your Surfr jumps with peers as most of them aren't using it. And there'll always be skepticism about comparing jumps measured with different devices.
The cost of a Woo 3 is pretty reasonable too when you consider the amount of fun you can have with it. So at the moment my loyalty is with the Woo 3.
Get in Touch
I hope you found this article helpful. But I always appreciate the views of readers and reply as soon as possible (wind permitting!)
So if you have any comments or questions, feel free to leave them in the box below.
And remember….GO BIG OR GO HOME!