Before reading this, take a look at my review of LiP's Typhoon water sports sunglasses.  The article looks at why LiP make the best sunglasses for kitesurfing, in my opinion.
I could cover it all again here, but the Surge range have a lot of the main features of the Typhoon, with a few cost-saving differences to make them more affordable.
When I was in Canos de Mecca at Christmas 2019 I got friendly with a guy who was rocking a pair of Surges and reluctantly offered to swap my Typhoons with him for a sunny session of kitesurfing. The things I do to be able to write honest reviews!
And whilst I was happy to get my Typhoons back, I wasn't disappointed with the performance of the Surge range.
The guy I borrowed them from had been using them for over a year and the lenses were still as good as new.
LiP Surge Water Sports Sunglasses – The Overview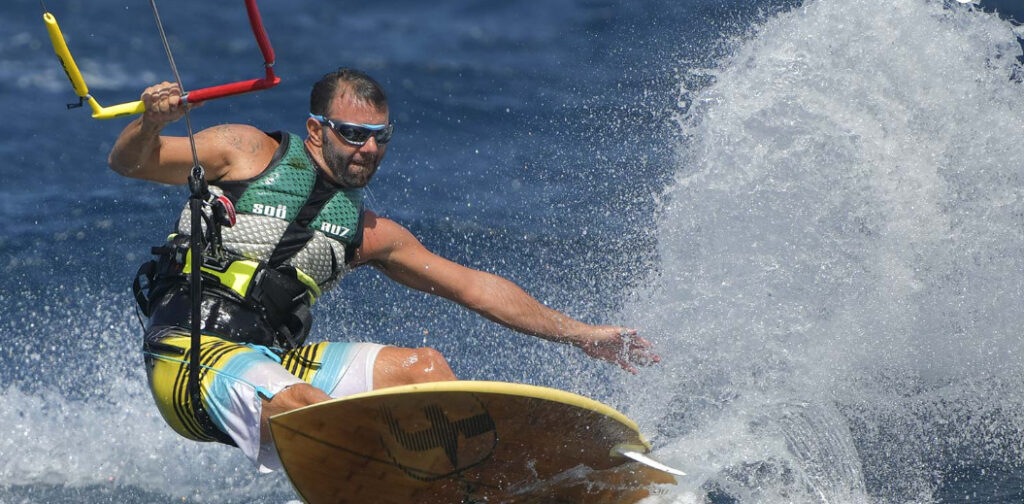 The LiP Surge range of water sports sunglasses are the lower priced relative of the Typhoon range, but enjoy many of the features of the Typhoons and at about half the price.
The main difference is that the lenses are not made by ZEISS, but are LiP's own proprietary lenses. The manufacturing processes are very similar though, including direct injection of the polarizing layer and a hydrophobic/oleophobic/scratch resistant layer on both surfaces. On the surge though this is also LiP's proprietary coating rather than ZEISS.
The other main difference is that there is less soft TPU on the inside of the frames.
In summary, what you get with the Surge range:
Frames –
Made from Swiss made TR 90 nylon – lightweight, flexible and virtually unbreakable.
Soft TPU directly moulded padding across the top of the bridge and on the nose bridge.
Patented "Vortex" venting system with vents at top and bottom of the lenses to create air-flow and prevent fogging.
Japanese stainless steel hinge-screws to completely prevent corrosion.
Range of colours available (main frame is graphite with colour on arms and TPU)
Lenses –
UV400 – 100% UV protection.
Polycarbonate – shatterproof, lightweight.
Manufactured by LiP and with the option of their own "VIVIDE" high contrast lenses on the Ice Blue option.
Polarized to eliminate glare – polarization layer directly injected to eliminate breakdown and delamination.
LiP's own Hydrophobic/Oleophobic/scratch resistant hard layer on both surfaces
De-centred 8 base curvature to eliminate distortion of peripheral vision.
Choice of 3 base colours, brown, smoke and ice-blue "VIVIDE".
Spare lenses available and easily removed.
RX prescription lenses available at extra cost
Retention system –
Same clip-on safety leash with adjustment toggle and silicone necklace as with Typhoons.
Size – Unisex one size
Frame width 147mm
Temple Length 127mm
Lens width 69mm
Lens depth 38mm
Bridge width 15mm
Returns policy – 30 days as long as unused
Warranty – 3 year guarantee against manufacturer defects in frame lens or retention system
Price –
£77 – 95
US$99 – 125
€90 – 109
(All except Ice-Blue "VIVIDE" are at lower price)
RX prescription lenses are extra cost, subject to quotation
What's in the box –
UK Resident Buyers Pay No VAT at Kite Mad World's Shop

Non-UK Buyers Can But Direct from LiP

Would I Recommend Them?
I've been using my Typhoons for 2 years now and in all honesty that's spoilt me because I'm comparing something twice the price. But my experience with the Surges was a happy one.
All the anti-fogging and water-shedding qualities are the same as the Typhoons. The water just balls up and runs off to keep your vision completely clear.
And it's the same retention system, which is failsafe. I actually did have a couple of pretty spectacular wipe-outs (in the spirit of being a diligent tester, of course), and the Surges stayed firmly in place.
The comfort was great. Like my Typhoons the Surges sat comfortably without squeezing or rubbing.
In short, they ticked all the boxes on my wish-list (see my Typhoon review), and I would be happy to own a pair of Surges.
The main differences I noticed were that the frames are a slightly different shape with a slight taper in the lens frame, and at times I could see the frame in my peripheral vision.
They are extremely comfortable but didn't quite hug my face like the Typhoons do, with a bit more space between my face and the lenses.
The lenses in the pair I used were brown, so similar to the colour of my Typhoons. And whilst the clarity of vision was great, with no distortion, I felt that the colour contrast of my Typhoons was slightly better, which may be down to the more expensive ZEISS lenses.
But in comparison to any other water sports sunglasses I've ever used these were way better, and for a bit more money than the nearest half decent competition you get all the main benefits of LiP's dedicated water sport experience.
So if you can't or don't want to spend the extra money for a pair of Typhoons then there is no better alternative in my opinion.
And the guy I borrowed them from did give me my Typhoons back (a little reluctantly). Although he did say he'd probably give his Surges to his girlfriend and buy some Typhoons for himself when he could afford them. What a gent!
I have to say too that the Surges do look pretty cool!
Pros and Cons
Pros:
Comfort
Superb clarity of vision
Hydrophobic/Oleophobic really works
Failsafe retention sytem
100% UV protection
Unbreakable frames and lenses
Look great
Value – at half the price of their Typhoon cousins these give you all the important benefits of LiP design
30 day returns policy – so you can send them back if they don't feel right (I'd be surprised though)
3 year warranty – unprecedented and a testimony to LiP's confidence in their build quality
Free shipping to most destinations
Cons:
Price is a bit higher than some other water sports glasses out there, but not if you want all the boxes ticked
Clarity of vision not quite as good as Typhoons
Care – you still need to look after these after a session
Less choice of frame and lens colours compared to Typhoon
UK Resident Buyers Pay No VAT at Kite Mad World's Shop

Non-UK Buyers Can Buy Direct from LiP

Summary
You'll pay more for a pair of LiP Surges than for a cheap pair of so called "water sports sunglasses" but, in my opinion, if you want a pair that meets all the needs of our sport, and which you won't end up ditching or losing after a few months, then that is money well spent. And there's a saying "buy cheap – buy twice". Look after these and they'll last years.
They meet all the needs of kitesurfers, windsurfers, surfers or anyone else who wants to enjoy the oceans without compromising the safety or comfort of their eyes.
Tell Me What You Think
I love feedback – and I do listen and respond. So if you have any views or comments I really want to hear them. Please let me know in the comments box below what you think.